Long Island's Premier Barrier, PVC, Chain Link Pool Fence Installations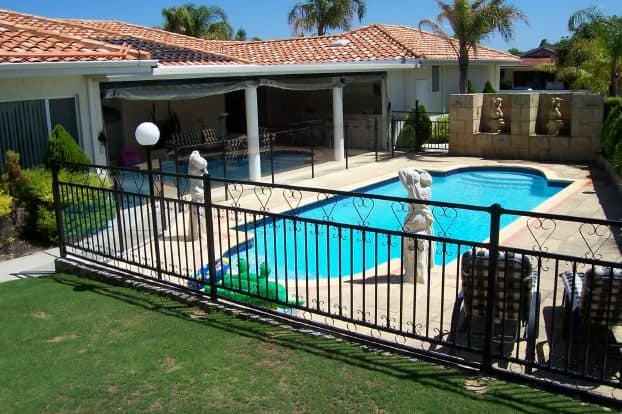 [title size="2″ content_align="left" style_type="single solid" sep_color="" class="" id=""]Long Island – Pool Fence Installations[/title]
Exclusive Fence Company Inc, of Long Island believes that one of the more important fences a homeowner can ever have installed is pool fencing. That is why we include it in our installations. Long Island enjoys almost 4 months of summer weather, with about 6 weeks of high heat and humidity and that makes it a perfect place to have a pool. However, with the pool, comes the responsibility of keeping everyone safe; your family, your pets and children or animals that may be in the surrounding area.
A pool fence is not just for your peace of mind. It is the law in New York State that a safety pool fence surround swimming pools. According to the NYS Code for barrier requirements for residential, outdoor swimming pools, your barrier (pool fence or wall), must completely surround the pool. A pool is defined as: bodies of water that are 24″ or more in any one spot. The fencing/barrier must be at least 48″ high. If a chain link fence is used, the mesh size cannot be larger than 2.25 inch square. If the barrier has diagonal lattice members, the opening cannot exceed 1.75 inches.
As you can see, this is not a job that you yourself should try. We are experienced, licensed and insured for our pool fence installations in long Island as well as the greater Tri-state area. To read and familiarize yourself with all the conditions that must be satisfied, you can follow this link to read the code in its entirety: http://www.dos.ny.gov/
With the codes and laws being so specific where swimming pools are concerned, we want you to know our qualified team will work with you to select and install the fence option that is best for your situation. Exclusive Fence Company Inc, of Long Island will see the job through to its completion, your satisfaction and the satisfaction of N.Y. State codes for proper swimming pool enclosures.
At, Exclusive Fence Company Inc,of Long Island we have the answer to all your Long Island pool fence needs for your home, or your business. There are many options from which to choose and as with all our fencing, our team takes pride in paying attention to details, carefully and properly installing your fencing.
Call us for an estimate of your pool fence job on Long Island. If you are a commercial property with a swimming pool and require a written estimate or official bid we can handle whatever specifications you may need.