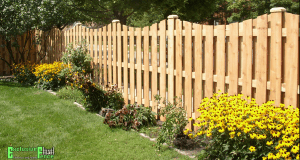 Homeowners install fences around the property of their homes for many reasons. Privacy is often cited as one of the main reasons to install a fence but other reasons may include securing pets and young children, adding aesthetics to enhance a landscape, as a safety border around a swimming pool and to prevent trespassing, either from unwanted intruders or wild animals.
If you are considering whether or not to install a fence around your property – either residential or commercial, keep in mind that depending on where you reside, you may need to obtain a permit. Many cities and counties in New York State may require that you apply for a permit before installing a fence. A fence permit ensures that your fence design, size, scale and material, are built to code and approved by the city or local government office. Permits are issued to confirm that any fence structures are safe for the public and adhere to current standards and practices.
In most cases, if you add an outdoor structure such as a fence, you need a permit. However, it specifically depends on the codes, zoning and regulations of where you live. In some cases, you may not need a permit but you must adhere to the local regulations regarding height limits and specific fence materials. According to FindLaw, "Local fencing laws guide fence requirements, such as the height of a fence, how far an owner must set back a fence, the use of prohibited material, the maintenance of a fence, and dangerous fences." In addition private communities and neighborhoods may enforce restrictions on the type of material a home owner may use for a fence and on height regulations to ensure design consistency throughout the neighborhood.
Before you purchase a fence and schedule an installation, make sure you check with your local government office as well as any neighborhood association that your home may be affiliated with to ensure that your fence type, size and design meet the neighborhood rules and local regulations. If you live in New York and you are unsure if your local municipality requires a permit to install a fence, check with your local town office or the New York State official website.
One you have done your homework and you have decided on a fence that meets all local requirements, it is time to contact the fence experts at Exclusive Fence! Exclusive Fence is a fully licensed and insured fence company that serves residential and commercial customers throughout Long Island. We have an inventory of numerous fences including vinyl, aluminum, chain link, PVC and wood, so we can install the fence of your choice that meets all of the local regulations. Our fence materials are also available in a wide selection of colors and finishes to match the décor of your home and enhance your yard. We also install strong and reliable pool fences and deer fences to ensure the safety and protection of your property.
Contact Exclusive Fence at 631-946-4740 for all of your fencing needs. Let Exclusive Fence install the perfect fence to complement your home.