When you're looking for PVC railings, look to Exclusive Fence of Long Island. We have a wide selection of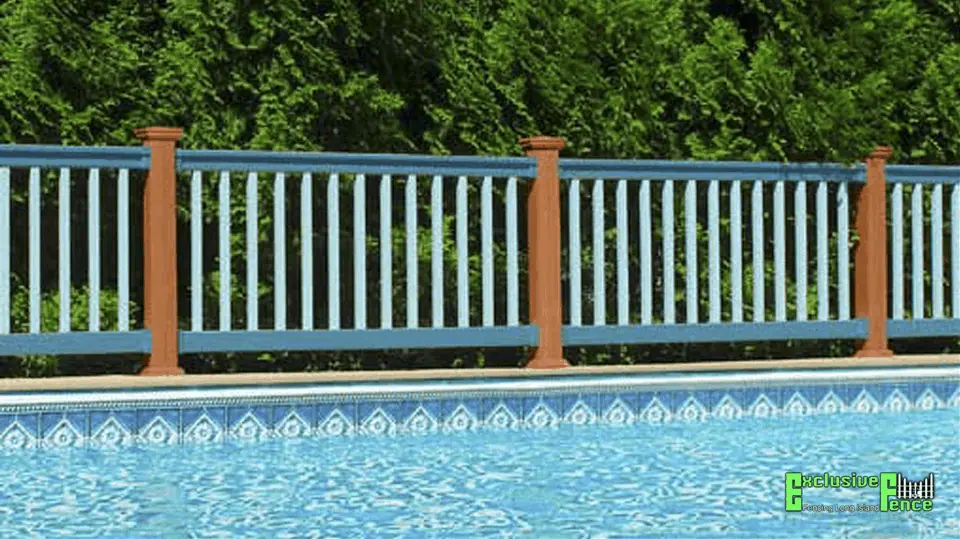 PVC railings to choose from and are dedicated to performing only the finest work. Our PVC railings company based out of Long Island has been in business for over 14 years and has held an outstanding reputation this entire time. Because we've worked in this industry for so long, we know the best materials for each application and how to install PVC railings properly on Long Island. Many of our Long Island customers also come to us for PVC railings they know they can depend on. They provide the durability and aesthetic that they're looking for.
PVC railings have been gaining in popularity on Long Island due to a number of benefits.
PVC is known for its durability, as well as affordable prices. It's not uncommon for PVC products to last for decades, as they can easily resist damage from wind, storms, and more. This is what makes these products perfect for the sometimes turbulent Long Island weather. They also do not require any kind of repainting and will stay looking beautiful for years. Additionally, if your Long Island PVC railings need to be cleaned, it's a relatively simple procedure. When you purchase these products from Exclusive Fence of Long Island, you know that you're getting the very best quality. That's because they're all fabricated locally in the tri-state area. This allows us to personally examine each piece and ensure that it meets our standards.
As PVC has become more and more of a widely used material, it has many more color options than it used to. Luckily, Exclusive Fence of Long Island carries all the designs you could need for your PVC railings.
We have wood grain and color options to choose from! In fact, our Long Island company has over 35 different colors you can select from for your PVC railings. With all of these different choices, it's impossible to find a shade that won't match your home. They also allow you to have the look of a material that may be more expensive, but with all the important benefits of PVC.
Our Long Island company is known for our wide selection of fence and railing materials. Besides just PVC railings, we can create striking wood, chain-link, and even aluminum fences on Long Island. All of these are suited for a wide range of different applications as they each have their own benefits. If you're not sure about what type of fence is right for your residential or commercial building, simply get in touch with us. We'd love to help you decide on the perfect fencing material for your property.
Exclusive Fence of Long Island offers a free estimate on all of our services, so give us a call today at 631-946-4740 to get started! You'll speak with our friendly representatives about what you would like us to do for your property. In addition, you'll find that our exceptional work is done at reasonable prices. You can only receive this amazing kind of deal on PVC railings from Exclusive Fence of Long Island! Best of all, you'll be left with a new addition to your home or business that you'll appreciate for decades. When you choose Exclusive Fence, you'll have the railings you've always wanted for your property.