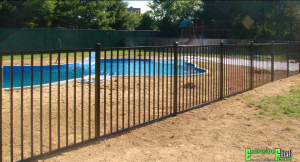 If you have a vinyl railing fence around your yard or Long Island property, you may want to add vinyl railings to your outdoor areas as well. Exclusive Fence can install vinyl railings on steps, decks or even pool side around a patio. Exclusive Fence is very experienced in the industry and they have been installing vinyl fences and vinyl railings for customers throughout Long Island for over fourteen years.
We are licensed and insured for both residential and commercial fence and railing installations, and we have many years of experience in the fencing business. We offer high quality installations on all types of vinyl railings and fences.
Vinyl railings and fences are popular because they are strong, durable, attractive and long-lasting.
Vinyl railings and fences are also referred to PVC or plastic fences, because of the durable material they are made from. There are many benefits to vinyl railings and fences and many customers choose these products because of their attractive look and the fact that they have easy to clean surfaces. Vinyl railings are extremely durable, affordable, and weather resistant. The attractive look and durability of vinyl railings and fences make them a very popular choice for many home and business owners. Another great feature is that vinyl railings will last for years with only minimal maintenance and cleaning.
Often, residents who may already have a vinyl fence in their yard choose vinyl railings to accent and add support to steps, decks, pools, balconies, walkways or stairs in and around their home. A yard with a classic vinyl fence is always beautifully accented by a vinyl railing for stairs or a walkway. Vinyl railings are often used to accent a deck or around a swimming pool.
Because it is such a strong and very versatile material that can be used for many different projects, vinyl is a popular material for railings and fences. Vinyl railings are very strong and last years longer than railings made of other materials. Unlike wire or metal railings, vinyl railings will not rust. They are easy to clean and look like new for years. Match the color of your vinyl railings to your vinyl fence and your yard will look terrific.
If you choose to add vinyl railings to your home, you will find that are many advantages to choosing vinyl railings over other materials. They will not rot like wood, rust or corrode like metal, or collapse after years of use. Vinyl railings are very strong and durable and they last for many years. Vinyl railings are a good choice and a smart investment for your home.
Contact Exclusive Fence at 631-946-4740 if you are interested in vinyl railings or fence installations for your Long Island homes or businesses location. We can explain the many benefits of vinyl railings or fences, and review all the options for having any of these terrific products installed. Exclusive Fence offers great prices, quality service and years of fence and railing installation experience. Give us a call today.