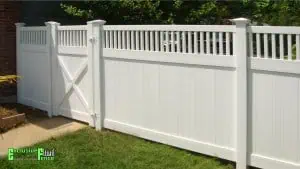 If you are looking for a quality aluminum fence for your backyard or property, contact the experts at Exclusive Fence. We have been in business for over 14 years and we offer quality products, knowledgeable employees and excellent customer service. We are fully licensed and insured and we have many years of experience installing all types of fencing at residential homes and businesses all over Long Island.
If you are interested in an aluminum fence for your property, contact Exclusive Fence. While some people may prefer the clean and tailored look of a wrought iron fence, they can be very costly and require quite a bit of maintenance. An aluminum fence can give you the same classic look, but for much less money and it requires much less maintenance. An aluminum fence provides a great look, durability and it can stand up to harsh weather conditions. An aluminum fence does not rust like other metal fences; an aluminum fence will not rot or fade, so you don't need to worry about moisture or sunlight damaging it over time. An aluminum fence is a smart choice because it will last for a very long time.
Aluminum fence installation
An aluminum fence is easy to install and it is an affordable way to make your landscaping look terrific. And each aluminum fence is available in a variety of different colors, styles and dimensions to meet the needs of any property owner. An aluminum fence will enhance the look of any property and it looks especially classy around a swimming pool or backyard.
With all of the different colors and styles available, an aluminum fence will be a beautiful addition to any yard. An aluminum fence also provides all the elegance and stateliness of an expensive iron fence without the cost, maintenance, and rust. You will never need to repaint or re-stain an aluminum fence, unlike wrought iron and wood. Aluminum fencing is covered in a powder paint coating during manufacturing, which fuses the paint to the metal surface, so that the fence will last for decades without showing wear. It is a very smart choice to make for your home or business location!
Once you have decided on an aluminum fence for your property, the experts at Exclusive Fence will come to your home or place of business to survey the property and take all necessary measurements. There are many different styles and options to choose from when you are purchasing an aluminum fence! A date will then be set for the installation of your aluminum fence and before you know it – your entire yard will be transformed.
At Exclusive Fence, we have a large selection to choose from if you are looking for an aluminum fence. Aluminum fence is available in basic residential styles, premium styles, and industrial fencing. Choose from different styles and colors including black, white beige, bronze, silver and more. You can also choose a satin, flat or textured finish. Contact Exclusive Fence at 631-946-4740 for the best fencing options and installation for your home or business.