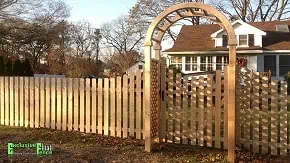 Nothing can compare to the classic look of a wood fence. A wood fence can add beauty, privacy and security to any home or place of business. Because it is truly a natural material, a wood fence will complement any landscape. At Exclusive Fence, we have a huge selection of wood fences to enhance any property on Long Island.
A wood fence is often available in different types of wood including spruce, cedar, and other natural woods. In addition you can choose from many different styles and colors or finishes for your wood fencing. Some options include privacy fences that give total seclusion, stylish brown shaded picket fences, decorative split rail fences, low maintenance composite fences and much more.
Every wood fence is prepared using treated lumber which is then coated with paint or stain, depending on the customer's preference. A wood fence is definitely strong and very durable and helps to keep any unwanted intruders or animals from entering your yard. Whether you are looking for a complete wood fence or just wood fence gates, posts, or wood fence rails, Exclusive Fence will have the items that you are looking for. We have a complete wood fence inventory that includes cedar fences, red cedar gates, picket fences, lattice fences and gates, and many classic and contemporary wood fence styles.
A wood fence is an outdoor essential for any home on Long Island.
A strong wood fence provides privacy, protection and a definite design accent to any home. There are many different designs and height options to choose from as well. You can also choose a natural stain, or a stain in a richer and deeper color. Some people choose a wood fence with a painted finish. It is completely up to you.
Exclusive Fence Company is completely licensed and insured. Whether you are looking for a wood fence at a residential or commercial location on Long Island, we can expertly install any wood fence at your desired location. We completely guarantee our work and know that you will be completely satisfied with our fence installation.
If you have decided to install a wood fence at your property, call the experts at Exclusive Fence. Our experienced staff will come to your home to survey the property and take all necessary measurements. There are many different styles and options to choose from when you are purchasing a wood fence! A date will then be set for the installation of your wood fence and before you know it – your entire yard will be completely surrounded by a beautiful wood fence. A wood fence is an absolute asset to any home as it gives such a natural look that will enhance your landscaping design!
If you are looking for a new wood fence, Exclusive Fence has a large selection to choose from. Any wood fence is available in many different styles, colors and stains. Call Exclusive Fence today at 631-946-4740 for all types of wood fences and the best fencing options for your home or business.