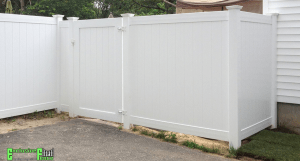 Long Island – Vinyl Fence Installations
Exclusive Fence Company Inc, of Long Island is a premium provider and installer of high quality vinyl fences. Also known as plastic fencing, vinyl fencing is considered a durable alternative to wood. These quality fences are manufactured and distributed in the tri-state area, and because of their durability and longevity they have been a very successful product in Long island.
Fencing indisputably makes your garden space more secure from stray animals, which can be a significant problem on Long Island. They also help to give your own pets a more defined area. At the same time it increases the beauty and look of your home. Innovations in texture and finishes have enabled us to develop vinyl fences that look like costly fences, but at reasonably low rates.
PVC and vinyl fences have characteristics that help them stand up in variable weather conditions. Whether it is snowing or rainy, sunny or cold, your fence will remain in tact.
Exclusive Fence Company Inc, of Long Island also installs vinyl railings for your deck, stairs or balcony. Vinyl railing provides the safety and security you need and once installed, creates and completes a beautiful look.
Colored vinyl fences and wood grain vinyl fences are offered for installation in our great selection of railings and fences. Exclusive Fence Company Inc, of Long Island has a variety of colors from which to choose, 35 shades to be exact. A mix n' match color facility is also available. Our color matching techniques can make your fence match with doorways, grills, garage doors, shutters and siding.
All in all, the better weather resistance, lower maintenance, general durability, great colors, great appearance, and low rates make vinyl fencing ideal for fencing enthusiasts.
Whenever you are in need of a customized vinyl fence contact, Exclusive Fence Company Inc of Long Island, and take advantage of our great offers and exclusive rates.