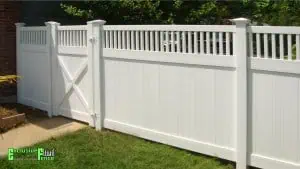 For years, Exclusive Fence has been a premium company providing quality vinyl railings to our Long Island customers. We prioritize giving our vinyl railings customers of Long Island the very best work for all of our services, so we're completely licensed and insured. Whether you need brand new vinyl railings for a home or a business, we'll be able to do it for you. Exclusive Fence of Long Island has vinyl railings that provide safety as well as a lovely appearance. We have a wide selection, so you'll find the perfect product to match your building's exterior design on Long Island.
What sets us apart is the sheer amount of experience we have in the vinyl railings industry. Although our company was established 14 years ago, our owner actually has over 20 years of experience. All of our Long Island craftsmen also have extensive expertise working with a wide variety of materials, such as vinyl railings, so you can trust in them to install everything correctly for your home or business. We oversee each and every project, not just our vinyl railings installations, from the very beginning to its completion. Our employees also work to keep you updated with every single step in the process.
Along with vinyl railings, we can perform anything from entire yard enclosures to simple fencing to enhance the look of your Long Island landscape. Every installation is completed with some of the best professional techniques in the industry. As a result, you can expect your fence or vinyl railing to continue looking beautiful for years. We have several different materials to choose from, such as aluminum, chain link, wood, and much more. These all have their own set of unique benefits which gives our vinyl railing a very distinctive look.
Exclusive Fence offers many different types of vinyl railings to meet the needs of all of our Long Island customers. We pride ourselves in the diverse selection of colors we have, which is why we have over 35 shades to choose from for our vinyl railings. Moreover, we carry a wood grain option that looks just like real wood. Our Long Island customers love this design for more classic looks. No matter what vinyl railings you're looking for, you'll find it at Exclusive Fence of Long Island. Our designs are easily suitable for both residential and commercial applications.
There are many different reasons why our Long Island customers decide to go with vinyl as a material. You won't have to worry about the paint chipping off or repainting it – the color will stay vibrant for years. In addition, vinyl railings tend to be an affordable option that does not require much maintenance on Long Island. It's also a material that's extremely versatile and resistant to the effects of dangerous storms.
If you're ready to have vinyl railings installed by a professional Long Island fence company, call Exclusive Fence today at 631-946-4740! We'd love to provide you with a complimentary estimate for our work. Our staff members will be ready to speak with you about any questions you have for your project. When we actually come to your property to work on it, you'll be pleased to see how we carry out all of the work from start to finish. We want you to be truly happy with the final product we create for you. Get in touch with Exclusive Fence of Long Island today to have the fence and railings you've always dreamed of.