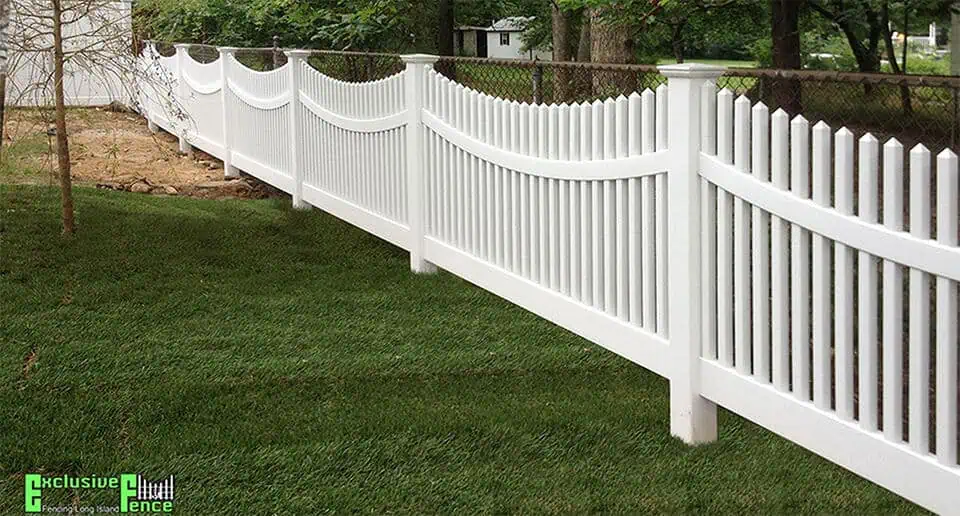 Exclusive Fence is a quality and experienced business that has been providing and installing PVC fences and PVC railings in Long Island residents for over fourteen years.  We are a Long Island based business that is extremely dedicated to our customer and we are experts at all types of fencing and railings, especially PVC railings and fences.

Exclusive Fence in Medford, Long Island is licensed and insured for both residential and commercial fence and railing installations, and we have many years of experience in the fencing business.  We offer excellent customer service, quality installations on all types of fencing including PVC railings and fences to all of our Long Island customers.

Many Long Island customers choose PVC products for fences and railings because they are strong, durable, attractive and long-lasting.  PVC railings and fences may also be called vinyl or plastic fences, because of the material they are made from. There are many benefits to PVC railings and fences and customers on Long Island choose these products because of their attractive look and the fact that they have easy to clean surfaces.  They are also durable, affordable, and weather resistant. The attractive look and durability of PVC railings and fences materials make them a very popular choice for Long Island residential and commercial property owners. A PVC railing or fence will last a very long time with only minimal maintenance and cleaning, but it can also stand up under the harsh and changing Long Island weather conditions.

If our Long Island customers already have a PVC fence around their yard, they often choose PVC railings to accent and add support to decks, pools, balconies, walkways or stairs in and around their Long Island home.  A Long Island yard with a beautiful white PVC fence is always beautifully accented by a PVC railing for their front or back stairs or walkway.   PVC railings are often used by Long Island customers for a strong and durable accent to a deck or around a swimming pool as well. PVC is a strong and very versatile material that can be used for many different projects, and it is a great choice for railings as well as fences in Long Island homes. PVC railings are very strong and last years longer than railings made of other materials.  Unlike metal railings, the PVC railings installed in your Long Island home will never rust or corrode.  They are easy to clean and look like new for years. Match the color of your PVC railings to your PVC fence and your Long Island yard will look stunning.

Customers that may be interested in a PVC railings or fence installations for their Long Island homes or businesses should call Exclusive Fence today at 631-946-4740. We will take the time to explain the many benefits of PVC railings or fences, and review all the options for having any of these terrific products installed at your Long Island residence. Exclusive Fence offers great prices, quality service and years of fence and railing installation experience.