If you have a swimming pool in your back yard, a pool fence can provide the privacy, safety and security that you require. In New York State and in most states, the law mandates that you must have a fence around a swimming pool. In order to keep your yard safe, a pool fence is a must in any backyard with a pool.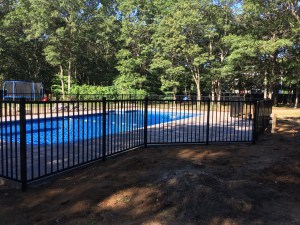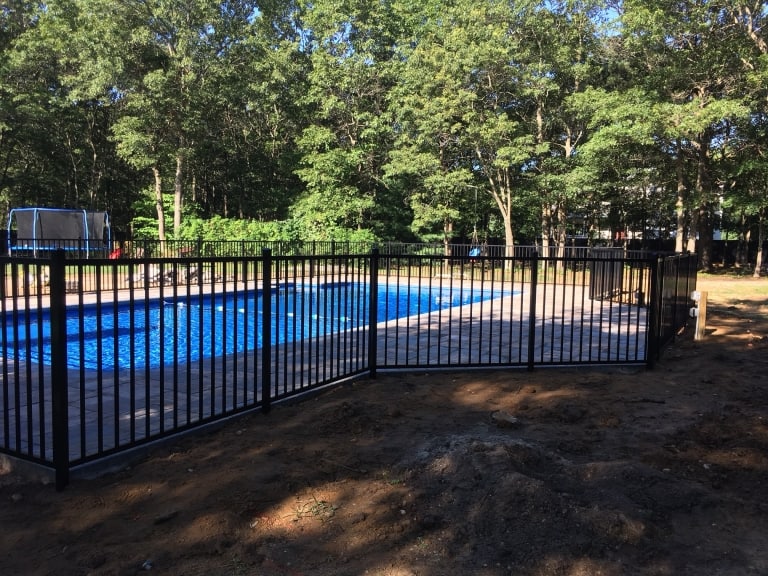 According to HomeGuides.com, "While there are no national standards for pool safety fences, any pool constructed on your property must meet state and local guidelines. The U.S. Consumer Product Safety Commission recommends that pool fences be at least 48 inches tall, but in some states, the minimum height is 60 inches."
A pool fence should safely secure your yard. Fences that are installed to protect a swimming pool must also meet certain safety requirements. These specific requirements are intended to prevent a child from crawling under the fence, fitting through a fence, or climbing over a fence. In addition, there are also requirements for access gates are intended to prevent a child from opening an access gate. However, there are many decorative fence options to choose from that offer both safety and a decorative accent to your landscaping.
As long as you meet the safety and height recommendations for your local area, the following types of fences are ideal for pool fencing around your yard.
Vinyl Fences
Vinyl is a very strong and durable material and these fences are virtually maintenance free. They are also difficult for children to climb. Vinyl or PVC fences will not rust like metal fences or decay or fade like wooden fences. A vinyl fence is strong, safe, moisture resistant and long lasting. They are available in a variety of colors and styles and require no painting or staining.
Aluminum Fences
An aluminum fence has the same classic look as a wrought iron fence, but it is much less expensive. It looks great, requires little maintenance, is very durable and it can stand up to harsh weather conditions. An aluminum fence does not rust like other metal fences and it will not rot or fade. Aluminum is a durable material that lasts many years and is difficult for young children to climb. Keep in mind that any openings on metal fences should be no larger than four inches across.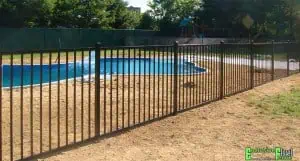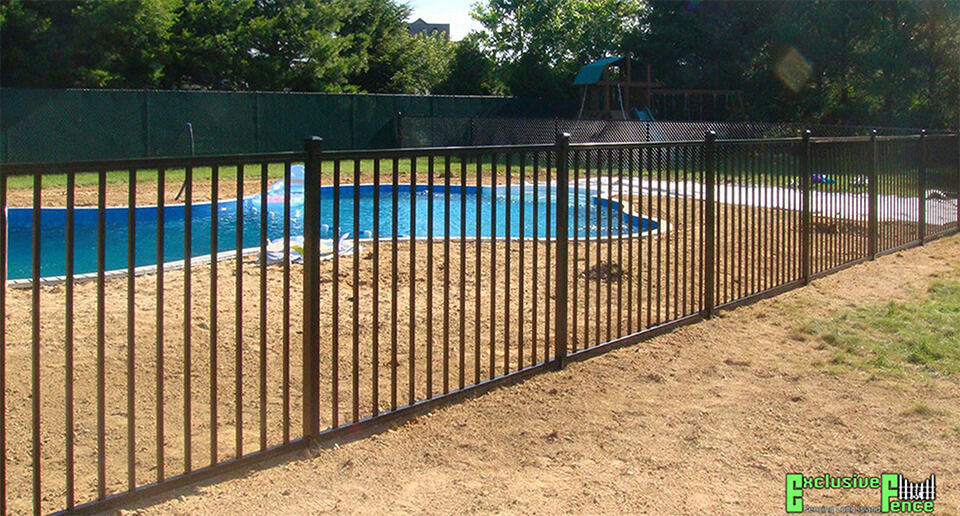 Wooden Fences
A wooden fence can provide the safety and security needed to keep your yard safe. Wood fences are often available in different types of wood including spruce, cedar, and other natural woods and you can choose from many different styles and colors or finishes. A tall wooden fence (with any horizontal slats positioned on the inside) can provide the safety and security you need around your yard.
For the full list of safety requirements for pool fencing in your specific area, visit the New York State website. In addition, always consult with your local town and county offices to ensure that you are complying with all local safety regulations.
Exclusive Fence is a fully licensed and insured fence company that serves residential and commercial customers throughout Long Island. Exclusive Fence has a large selection of fences that meet all safety requirements to protect your yard and your swimming pool. They have a large inventory of high quality fences including vinyl, aluminum, chain link, PVC and wood, and a staff of experienced and professional installers. Give them a call at 631-946-4740.