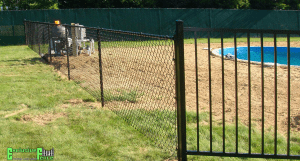 [title size="2″ content_align="center" style_type="single solid" sep_color="" class="" id=""]Long Island – Chain Link Installations[/title]Chain link fencing is the apex branch of Exclusive Fence Company Inc, of Long Island, a professional fence installation company in the Long Island area. We take pride in our professional approach and our perfection in chain link installations. We are licensed and insured to work all over the Tri-state area, including the Long Island counties.
Exclusive Fence Company Inc, of Long Island's chain linked fence systems have completely revolutionized people's ability to experience the comfort of safety while looking great! This is exactly what our customers have demanded. Our poly coated fencing provides security and magnificent looks, with added feature of low maintenance. And, it adds great value to your Long Island property.
Specialized, System 21™, our safety mechanism in fencing, is appropriate for residential as well as commercial use. System 21™ combines the safety, security and value of chain link with the beauty of a maintenance free Poly-coated fence system. Being the most economical of all fencing available, while having durability and strength, it is in great demand with Tri-state area residents. We are able to provide you as the homeowner perfect, economical protection with the complete securing of your property, children and pets. Why? The high humidity and unpredictable winter storms of Long Island can wreak havoc on ordinary chain link fences. This is why the galvanized chain link fences are exceptionally strong. Protect your children, pets and property with Eastern's full-color System 21™ fence. There is a full-color System 21™ fence that's right for your home!
Chain linked fence is available in your choice of green, black, white and brown. Our exclusive coating process bonds a tough resilient protective layer over extra heavy gauge steel pipe, fittings & wire, giving the entire system an attractive finish with an extended durability that will last for many years, even after years of rigorous weathering. Our custom fences incorporate privacy and semi safety inserts. They are designed and powder color coated specifically for you, when you order them.
Choose from System 21™ custom options: driveway and walk gates, a variety of mesh choices, as well as non-climbable pool meshes and high security, heavy gauge complete tennis courts! With all the extra amenities now found at homes in Long Island, Exclusive Fence Company Inc, must have something your home needs.
Exclusive Fence Company Inc, of Long Island is the trusted company for fencing needs and this faith is result of customer satisfaction and genuine referrals. We are gaining momentum and gripping the market with our latest, durable and cost effective products and their installations. We are always happy to help you with chain link fencing.