If you're on the lookout for a new fence on Long Island, take notice: Exclusive Fence is a premier Long Island fence company with a dedication to quality and professionalism. For more than fourteen years, our company has been installing and maintaining fences on Long Island, and in that time we have always maintained the highest standards possible. Our company is licensed and insured for every type of fencing, from PVC to aluminum. Our Long Island customers trust us with all their fencing instillation needs because they understand how seriously we take our profession; the quality of your backyard perimeter is of paramount importance to us, which is why we have cultivated such a reputation for quality. When you are thinking about installing a new fence on your property, call Exclusive Fence of Long Island and our company will discuss what your ideas and goals are, and then start the process of creating the perfect fence for your Long Island home.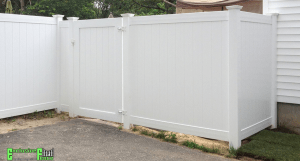 One of the most important aspects of the Long Island fencing business to understand is that every customer is different, and will have different needs and intentions for their fence. While one Long Island customer may need a simple chain link fence to keep their pets in their yard, another customer may want an elaborate aluminum fence in their front yard to improve the overall look of their property. Everything about these two customers is different, apart from the fact that they both need a fence on Long Island. At Exclusive Fence, our company understands how to cater to our customers' individual desires, rather than applying a one size fits all approach that may leave many customers disappointed. Our most cherished intention at Exclusive Fence is ensuring that our Long Island customers are absolutely satisfied with every aspect of our work, and we take that ideal quite seriously. That's why you can be sure, when you commission a Long Island fence from us, that you will receive exactly what you ask for, with the highest quality materials and workmanship.
At Exclusive Fence, we make our customers our number one priority, because we aim to be the most professional and dedicated fence company on Long Island. To that end, we make sure that all of our customers understand that they can come to us with any questions or concerns that they may have, and we will do our absolute best to answer every question and meet every demand. Exclusive Fence is a privately owned company, so you can be sure that your satisfaction is our highest priority; we have no shareholders to appease. Our customers are our most important relationships. Exclusive Fence installs a wide variety of fencing, including chain fences, PVC fences, aluminum fences, and wood fences. Regardless of the type of fence you may need, we have extensive experience with it because we have installed such a wide variety of fence types for our customers in our fourteen years of business.
The next time you need a fence installed for your Long Island home, call Exclusive Fence at 631-946-4740 and we will be happy to explain our process and provide an estimate. Trust Exclusive Fence because we make your needs our highest priorities; you'll be amazed at the results.