Long Island's Premier PVC, Metal and Chain Link Fence Installations
At Exclusive Fence of Long Island, our company sells and installs a wide variety of fencing, including many different materials and fencing needs. However, one of the most important types of fencing, one that we take very seriously, is our Long Island pool fence installations. Many Long Island homes have a pool for the hot summer months, and as you may or may not know, New York State law mandates a fence around every pool for safety reasons. Because we believe in keeping Long Island safe, pool fence installations are included in the selection of fence types we sell and install. On Long Island, we all enjoy the four months of summer weather; many use the opportunity to install a pool fence in their backyard. We think pool installation is critical, because with the benefits of having a pool come a commensurate amount of danger, especially for children on Long Island. For this reason, a safety fence is mandated around every pool and Exclusive Fence of Long Island will be happy to design and install that safety fence for you.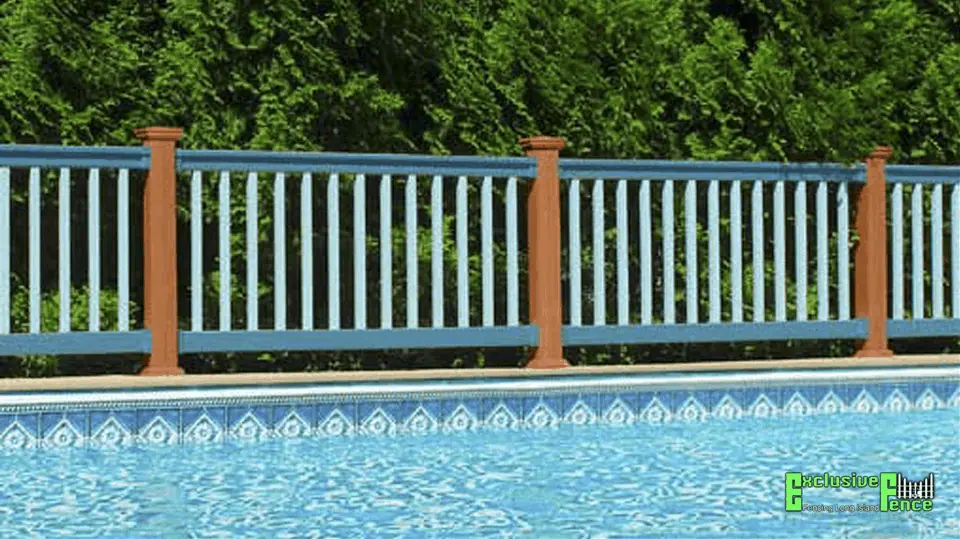 Unlike many other types of fencing, a pool safety fence is not installed primarily for aesthetics, but for safety. Within the New York State Code regarding barrier requirements for outdoor residential swimming pools, it states that your fence must not only surround the pool completely, but must also be 48" high. Many different types of pool fences are possible for Long Island yards, including chain link, aluminum, PVC or wood, but there are several codes dealing with specific types of fencing; for example, a chain link fence must not have a mesh size that exceeds 2.25 square inches. Obviously, a pool fence is a very important safety measure, and not one that should be taken lightly. Exclusive Fence of Long Island is not only licensed and insured for all types of fence installation – we also have more than fourteen years of experience installing every available type of fencing.
At Exclusive Fence of Long Island, we believe that making our customers happy is one of the most important aspects of the business, but when it comes to Long Island pool fence installations, we know that safety is equally important. To this end, we will be happy to work with you to design a pool fence for your home that will not only meet New York State code and keep your pool as safe as possible, but also meet your personal requirements and make an attractive addition to your Long Island home. We aim to see every job through to its ultimate completion, making sure that every expectation you have is met, and that you are completely satisfied with your pool fence installation. With so many options for pool fences, we will be happy to walk you through the process so that you can make the best, most educated decision possible. You'll end up with a final product that you will be completely satisfied with, and that our Long Island company will be proud of.
To talk with our pool experts about your pool fence, whether you are having a new pool installed on Long Island or you would like your current pool fence redone, call us today at 631-946-4740 and tell us what your needs and requirements are. We will be more than happy to work with you and create the pool fence that will perfectly match your home and meet your expectations.