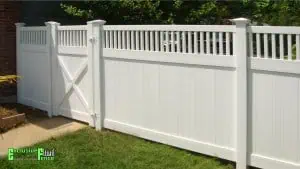 Exclusive Fence has been providing and installing PVC fence in Long Island residents for more than fourteen years.  We are a Long Island based business that is devoted to our customer and we are experts at all types of fencing, including PVC fence.  We are licensed and insured for both residential and commercial fence installations, and we have many years of experience in the fencing business.
We serve all of Long Island including Nassau and Suffolk Counties with a diverse selection of fences, covering every aspect of PVC fence sales and installations in Long Island. Our Long Island inventory includes an entire selection of fences and materials, including full-yard pool fences, deer fences, backyard enclosures, PVC fences, wood fences, chain fences, and aluminum fences. On Long Island, the most popular fences that we sell, remains the PVC fence, due its many positive qualities.
Most customers on Long Island choose a PVC fence because it is durable, attractive and long-lasting.  PVC fences are also referred to as vinyl or plastic fences, because of the material they are made from. The benefits of a PVC fence are numerous and customers on Long Island choose these fences because of their attractive aesthetic and the fact that they have easy to clean surfaces.  They are also durable, affordable, and extremely weather resistant. The longevity and durability of PVC fence materials make it a very attractive choice for Long Island residential and commercial property owners. A PVC fence will last a very long time with only minimal maintenance and cleaning, but it will also stand up under the harsh and changing Long Island weather conditions.
Our PVC fence products are all manufactured locally in the Long Island area. We know this is important to many of our Long Island customers who want to support local business and local industry.
A PVC fence is a smart choice to protect your Long Island property.  In addition to privacy, one of the primary benefits of a PVC fence and installing fences in general, is to secure your yard and property, keep out stray and wild animals as well as unwanted strangers. A PVC fence can be built as large as you want, making a very effective privacy fence for your Long Island yard. A PVC fence can also add an attractive look to your Long Island property.  A white or cream colored PVC fence can accent nearly any house color, and the color will remain looking brand-new for many years to come. Additionally, new advances in PVC fence technology allow us to texture and finish your Long Island fence to make it appear like another type of fence material, such as wood or stone. This is a great way to get all the benefits of a PVC fence, while gaining the attractive look of a more costly material.
In addition to PVC fences, Exclusive Fence in  Long Island also installs vinyl or PVC railings for decks, pools, balconies, or stairs in any Long Island home or business. PVC is a strong and very versatile material, and makes a great choice for railings as well as fences.
If you are interested in a PVC fence installation for your Long Island home or business, call Exclusive Fence today at 631-946-4740. We are happy to explain the many benefits of a PVC fence, and review all the options for having a brand new fence installed at your Long Island residence. We invite you to take advantage of our great prices, quality service and years of fence experience.