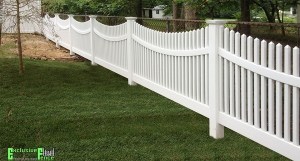 While vinyl fences are growing in popularity, today wood fences still remain a staple, surrounding the yards of many residential homes on Long Island. All wood fences are not created equal however and there are many different options and styles to choose form when it comes to choosing a wooden fence.
All wood fences are durable, practical and usually traditional yet they can differ in size, material and style. It costs a significantly less to invest in wood fencing than it does to use other materials, such as vinyl, stone, brick, steel or iron. Following are some popular types of wood materials that are widely used for fences.
Cedar
Cedar is a high quality wood used to make fences. Western red cedar is naturally resistant to insect infestations, rot, and moisture – all factors that can cause problems with lesser quality wood. The bark of Western red cedar is red although the wood is light brown with just a hint of red. It has a tight grain and a low number of knots, making it very popular for construction. Northern white cedar is lighter in color, varying from white to yellow. Both types of cedar turn gray with age.
Redwood
High-grade redwood will stand up to insects and will not rot. Good quality redwood has a deep red color. This fence material should be stained or sealed with clear oil to avoid the wood turning gray. This beautiful, durable wood however, can be the most costly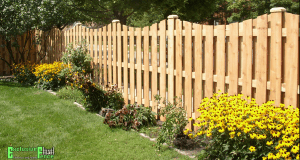 Spruce
Spruce is a common material used for fences and it is very affordable. It is often used for prefab, picket or stockade-style fences. It is less durable than cypress or redwood and it may warp in damp climates. It often has blemishes and a coarse grain. It can be more prone to insect infestation than other types of wood for fences.
Pine
Pine is typically one of the more affordable options in wood fencing. However, pine fencing can be more vulnerable when it comes to insect infestations and it is susceptible to rot and moisture issues, which means it requires more maintenance. However, pine wood can be pressure treated to make it more resistant to such problems.
Pressure-Treated Wood
Many types of wood (most often pine) can be treated with chemicals to protect it from insects and rot. Keep in mind however that some of these chemicals are highly toxic to humans and animals, especially arsenate. Pressure treated wood should last at least twenty years and may even come with a limited lifetime warranty.
Wood has a traditional beauty that few other materials can match. If you are interested in wood fencing for your home, contact the experts at Exclusive Fence. Exclusive Fence is a fully licensed and insured fence company that serves residential and commercial customers throughout Long Island. They have a large inventory of high quality wood fences as well as vinyl, aluminum, chain link, and other fence materials. They also have a staff of experienced and professional installers. Give them a call at 631-946-4740.